nasihat pakar
A Triangle of Interconnected Risks between Diabetes, Kidney Disease and Heart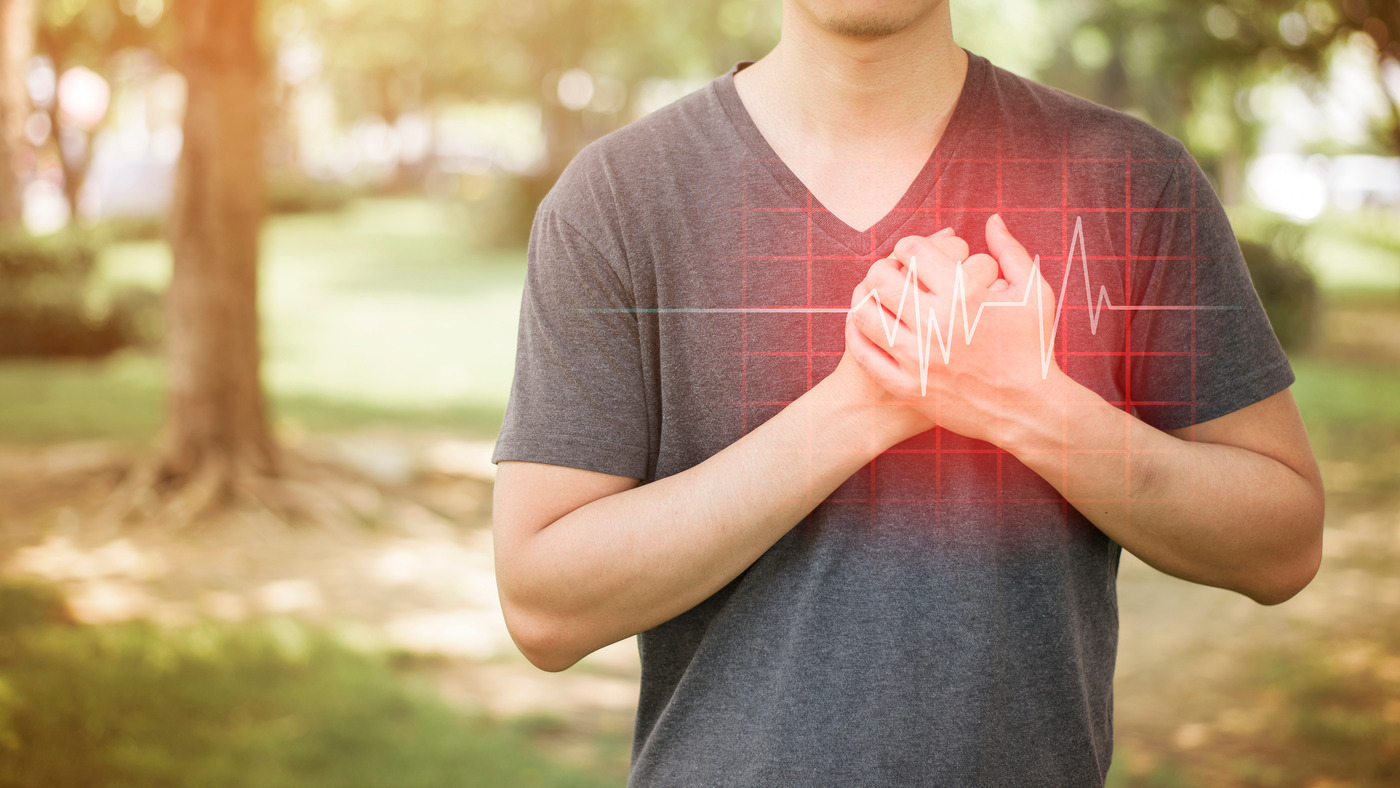 Written by: Dr Kenneth Lai Koah Kien, Consultant General Physician and Nephrologist at Bukit Tinggi Medical Centre
Diabetes is known as 'family disease', which means a diabetes diagnosis can affect the entire family. In Malaysia today, most of us have heard of or know of someone who is living with diabetes. However, many of us have not truly grasp what it means to live with this long-term disease - until it happens to a loved one or ourselves. If you have a family health history of diabetes, you are more likely to have prediabetes and develop diabetes.
According to the latest National Health Morbidity Survey 2019 (NHMS 2019), 1 in 5 adults in Malaysia has Type 2 Diabetes mellitus. Malaysia also has the highest prevalence of diabetes in Southeast Asia (16.8%) followed closely by our neighbours Singapore (14.2%) and Brunei (13.2%) based on the International Diabetes Federation (IDF Diabetes Atlas 2019). The high incidence of overweight or obesity even amongst Malaysian children, sedentary lifestyle and a very imbalanced dietary habit particularly high calorie and low fibre are the main contributors to the rise of diabetes amongst Malaysians.
In Malaysia particularly, 7 million Malaysian adults are likely to develop diabetes by 2025, compared to 3.9 million Malaysians living with the condition in 2019 based on the Diabetes Education Manual 2020 published by Malaysian Diabetes Educators Society. By 2025, Malaysia may have more than 3 million new diabetic patients. This number may exhaust the current Malaysian healthcare system and the country will be unable to afford the costs of diabetes care unless incidence rates and diabetes-related complications are reduced.
Diabetes has been in our community for a long time and of late, it seems to be appearing at a younger age. As such, there is a need for prevention strategies to slowdown the rising numbers so that ultimately, Malaysians can have a better quality of life.

Diabetes is a long-lasting disease and it can't be reversed. It often leads to other non-communicable diseases such as kidney disease and even cardiovascular diseases. When diabetes is not properly controlled, it can have a multifaceted attack on our organs which include endothelial dysfunction, disruptive hormonal activation, oxidative stress, inflammation and many more.
However, two diabetes complications that are most complex are heart and kidney diseases. Diabetes is an integral part of what we know now as the cardio-renal-metabolic syndrome which starts off with inflammation of the endothelial cells in the blood vessels and then leading to serious organ damage through the above mechanisms. Both kidney and cardiovascular diseases are usually silent in diabetes but when it does manifest clinically, it has already been significantly damaged.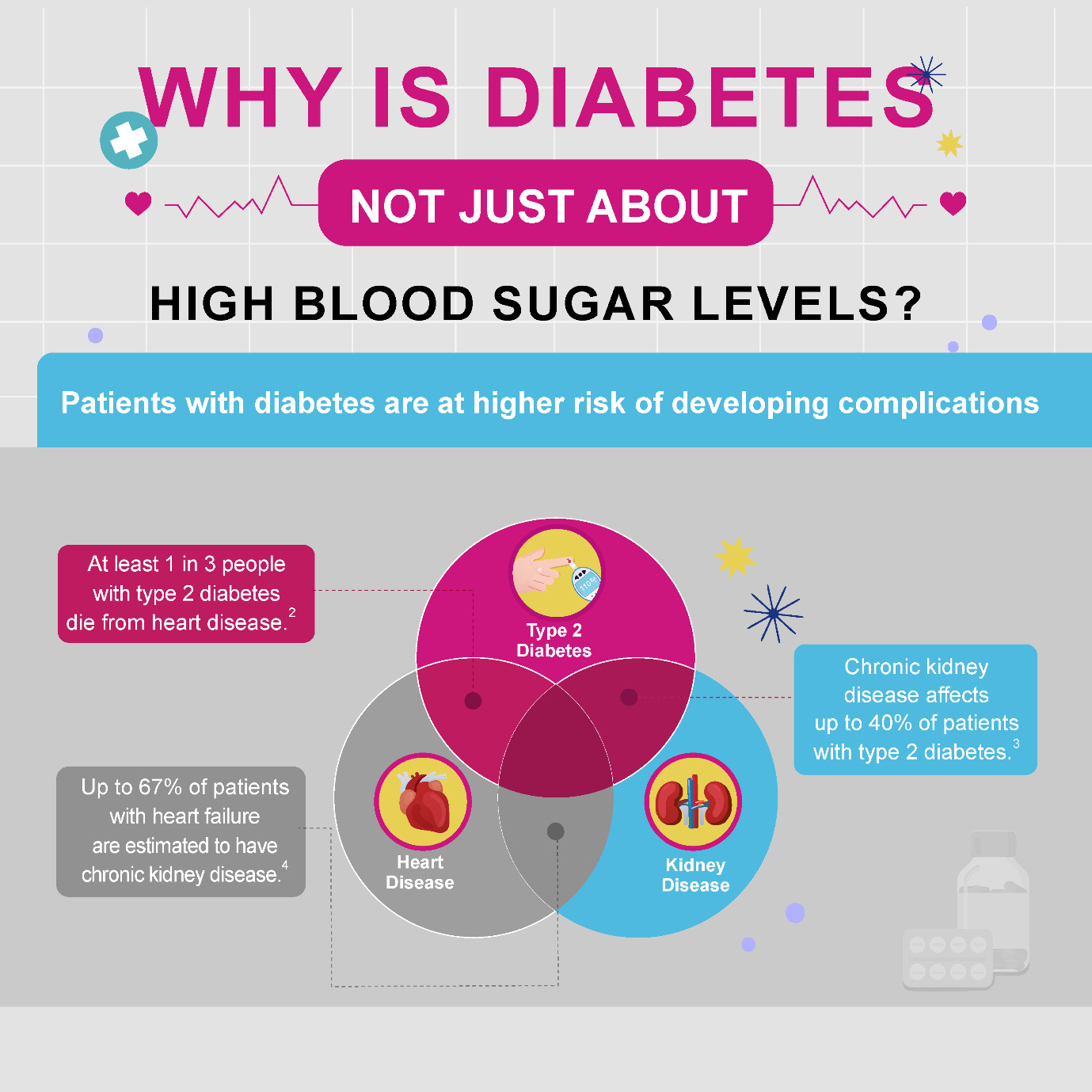 People with diabetes are 4x more likely to develop heart disease and approximately 1 in 3 adults with diabetes has chronic kidney disease and it affects up to 40% of patients with Type 2 diabetes. Based on the Malaysia Dialysis and Transplant Registry report 2018, 69.2% of end stage kidney disease patients are caused by diabetic kidney disease (DKD). This worrying trend is why Malaysia has the highest prevalence of kidney failure due to diabetes in the world.
As diabetes can be rather insidious, symptoms tend to come late. In the context of kidney disease, it could present rather subtle symptoms such as frothy urine, lethargy, urine breath, reduced appetite, leg swelling etc. Other organs that may be affected by kidney disease include the eyes with symptoms such as blurring of vision and floaters; and as for the heart, they can present as lethargy, breathlessness, reduced stamina etc,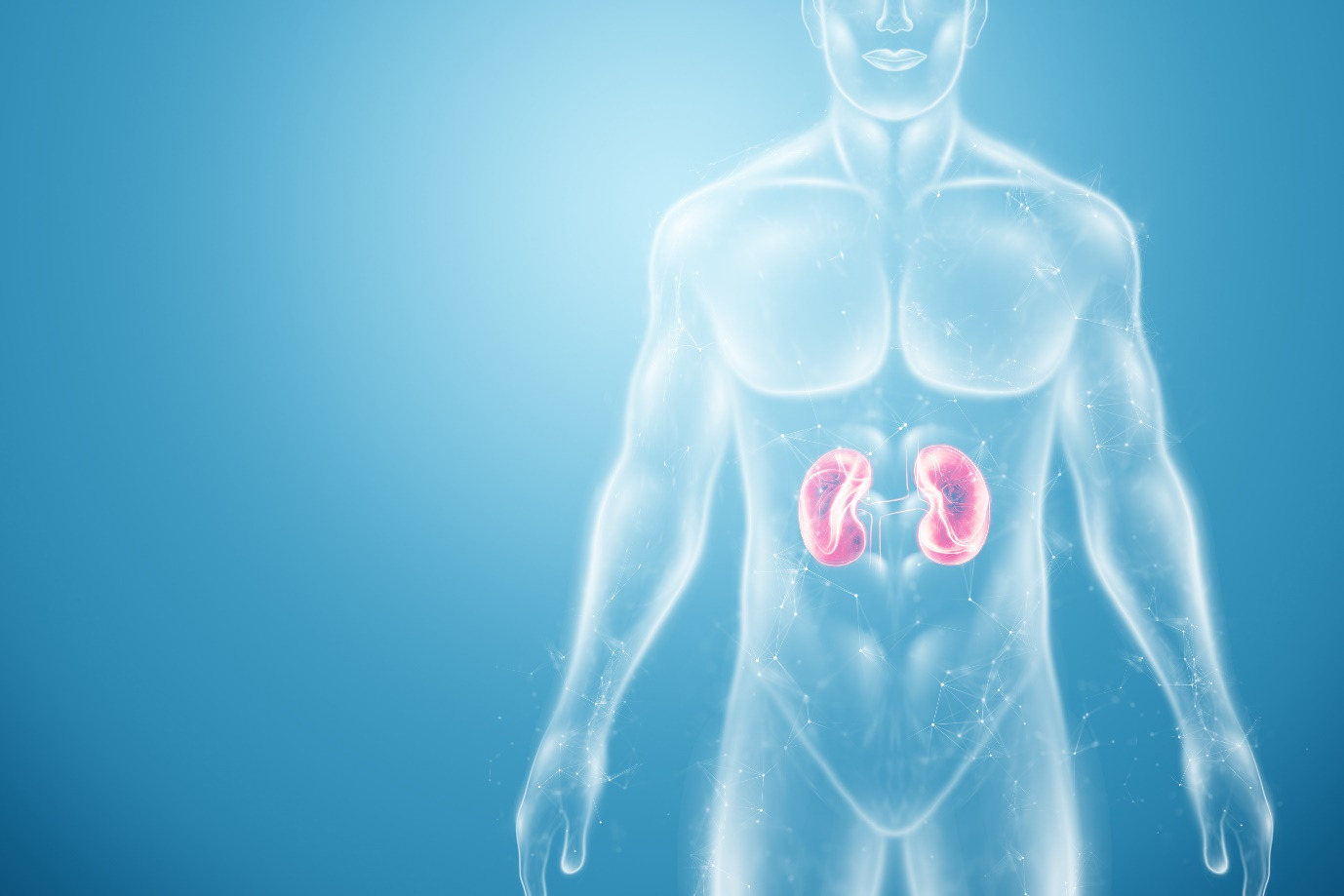 In a patient with Diabetic Kidney Disease (DKD), mortality and cardiovascular disease rates increase exponentially. Patients with DKD are more likely to die before reaching end stage kidney disease. If the patient does reach the end stage of kidney disease, they would need a form of renal replacement therapy which includes kidney transplantation or dialysis. These patients would need to monitor their comorbidities closely with their doctors which include hypertension, obesity, hypercholesterolemia and smoking. All these are mercenaries of death together with diabetes.
Diabetes causes chronic damage to the kidneys. Generally, this type of damage is irreversible. But there is a silver lining in this as we are living in an exciting decade of new drug discoveries which are beneficial to diabetic kidney disease. With the advanced and latest drugs and treatment made available in the market, the key to a successful treatment for these complications is a strong partnership between the patient, his or her primary doctor, support from family members and paramedics such as dieticians and nurse educators.
Healthcare professionals usually will advise asymptomatic diabetic patients to go for kidney and heart disease screening. It is because these diseases are usually developed silently and patients do not usually have symptoms until a later stage. The recommended screening for diabetic kidney disease is with simple tests, such as a urine test called Urine ACR to look for protein leakage and a simple blood test to look at kidney function which is called serum creatinine. We start screening on the date of diagnosis of Type 2 Diabetes and 5 years after the onset of Type 1 diabetes. However, the recommendation to screen asymptomatic diabetic patients for cardiovascular disease is rather controversial and needs to be assessed individually. For diabetic patients who already have kidney or heart diseases, the strategy is to reduce progression of disease rather than screening for it.

As our kidneys have various functions such as blood pressure regulation, filtration of waste products from our body, water regulation, hormonal regulation such as erythropoietin (hormone that makes blood) and vitamin D activation that makes bones strong. The moment our kidneys are unable to work properly, signs like uncontrolled blood pressure, lethargy, frothy urine, fluid overload manifesting as swelling of the legs and breathlessness when the water goes to the lungs, anemia (lack of blood) and bone pain might be present.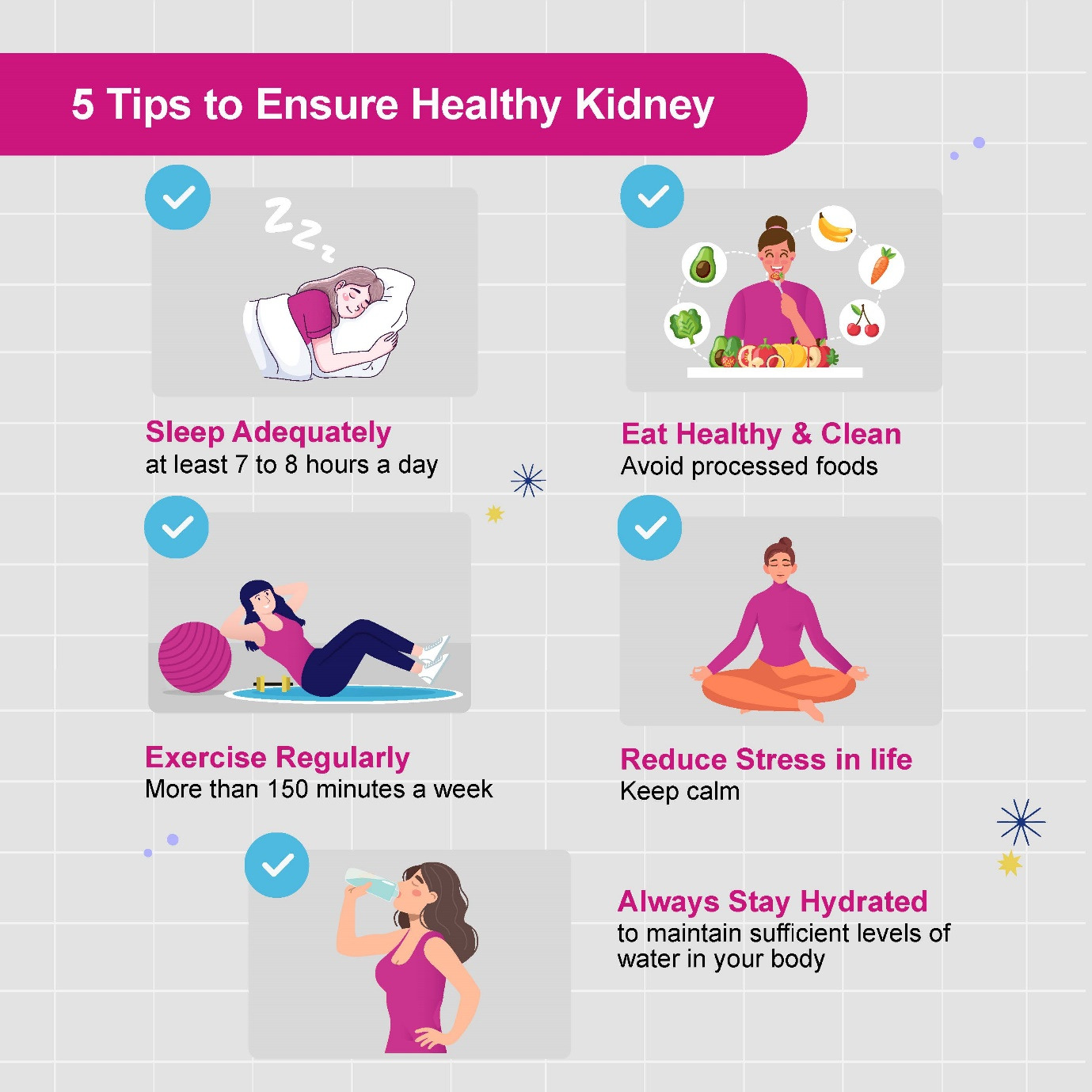 In ensuring our kidneys stay healthy and happy, Dr Kenneth shared 5 tips i.e. sleep adequately for at least 7 to 8 hours a day, eat healthy and clean, exercise regularly (more than 150 minutes a week), reduce stress in life and always stay hydrated.
With these lifestyle changes, we can be hopeful to reverse the trend of diabetes incidences and diabetes-related complications amongst Malaysians. Let us all motivate each other towards a healthier lifestyle, healthier families and ultimately, a healthier nation.

In supporting all Malaysians to start a better quality of life, For Your Sweetheart Campaign invites all Malaysians to keep themselves and their loved ones healthy with a FREE Diabetes HbA1c Screening at participating clinics nationwide. This initiative is supported by Boehringer Ingelheim in partnership with Malaysian Endocrine and Metabolic Society (MEMS), Malaysian Diabetes Educators Society (MDES) and Persatuan Diabetes Malaysia (PDM). You may log on to www.foryoursweetheart.my to register for the Free Screening today or learn more about diabetes. For Your Sweetheart FREE Diabetes HbA1c Screening is ongoing until 31 December 2022.